Post by Shibumi-Mandeville I-12/Hwy59 on Jul 8, 2021 9:06:51 GMT -6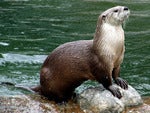 More fuel for the fire as it were from this morning's Associated Press:
I don't understand how a link can be made from such a short-term regional weather event.....regardless of whether there actually is a true link. You could spend every month of every year trying to link some beyond average weather phenomenon somewhere on the globe to whatever cause you wish to. In the 70's Time Magazine had on it's cover how to deal with the coming ice age.....I remember reading it (and being quite excited actually because being a SELA product, I love what we rarely get...snow).
Again I am not discounting the cause of the heat in the NW as not being attributed to climate change or any anthropological contribution therein.....I am questioning the scientific validity of linking it so simply as evidence of it.
We have a history of overreacting to things we don't understand or don't have enough data to make an actual logical conclusion from. Even in this forum one sees posts like 'well it snowed here in this year and the next year we had an active hurricane season or we got impacted by a bad hurricane' or the like...so the next time it snows we are worried about the next year's hurricane season.....or the conclusion that believing in UFO's automatically means that we believe they are aliens, when the definition of UFO clearly has the word 'unidentified' in it. Obviously UFO's are real by literal definition.....assuming the source of them is the human tendency to assign a cause to things we don't understand without any actual data to do so.
Almost every single weather related article in the press (whatever constitutes the press nowadays) concludes with a statement about climate change.....almost without exception....because it gets clicks....
I even saw an article claiming that the US Navy test using an underwater explosion next to a new aircraft carrier many miles offshore in the Atlantic was the cause of the condo collapse tragedy in FL. Or that the rising sea level was responsible instead of a design issue. Or the mid volcano explosion in Azerbaijan as being some indication of climate change (next to it being big business oil to blame) when it is a natural phenomena which had happened many times in that region in the past.
I've started my stance on all this before...I am skeptical of our ability to understand the climate drivers well enough to know what is happening, what part humans play, and thus our ability to make changes that will actually affect the outcome to our benefit. I'd rather be a realist than a hypocrite.
The good that comes out of the dialog about the climates more funding (hopefully) to advance our understanding of the climate and the weather it creates.